Home for the Holidays?_old
In a year, when even Santa has to stay at home, it is time to find a new way to celebrate with your loved ones and turn every gathering, no matter how small into a big moment.
Now, more than ever, the holidays are about bringing your loved ones together in your own home. With fresh lockdowns, social distancing and closed restaurants, this Christmas will definitely look different.
Our gotvintage Tablescape Box is the perfect service for you, just rent everything you need for a holiday celebration and you can start feeling excited about setting up these meaningful celebrations immediately.
Festivities in a Box
You will bring people together at your table, we will deliver sparkle and joy right to your doorstep. Our gotvintage tablescape boxes are brimming with everything you need to set a festive dinner table to remember – high-end table and glassware, shiny cutlery, vintage vases, candles, flowers and more. So you can blissfully lean back and let the holidays come to you for ones.
Treat your Friends and Foes!

No matter, if you are planning a private Christmas party, your company's holiday event or your New Year's celebration, we will support you with the right tablescape. Or do you want to make a friend, partner or colleague happy? A gotvintage Tablescape Box also makes a lovely and thoughtful present that nobody already has.
We want you to have a good time!
Our Tablescape Boxes
It is the attention to detail and the loving composition that makes a uniquely beautiful table. That is why we pack our most beautiful tableware, the most sparkling glasses and the most beautiful flowers in the gotvintage Tablescape Boxes – so you can unpack them with anticipation of an unforgettable event. Our looks fit Christmas dinners as well as festive brunches, office events as well as New Year's Eve celebrations or winter parties in January.
What's in it?
Each box comes with two complete place settings and tasteful decorations that will turn your table into something special. You can keep the flowers as a souvenir, everything else will return to gotvintage. Are you more than two people? No problem, simply choose the right total number of people during the check-out process.
How It Works

1 | Choose your Style

Go to gotvintage.de and select your favourite package, including everything you need.. We provide everything you'll need on the table – glassware, china, cutlery, flowers and more. You will find a detailed list within each style description.
2 | What would you like?

Invited all important people and got your RSVPs back? Then simply place your order through our online booking system and let us know how many table settings you will need and if you would like everything delivered to your door or if you prefer to pick it up.
3 | Get Your Box
We will carefully and happily pack your gotvintage Tablescape Box with everything you need for your dream table. It will be delivered contactless to your door, or you can pick it up at our Berlin location.
4 | Celebrate the good times!

You are now all ready to set your table, gather your loved ones, hear a lot of ahs! and ohs! about the beautiful setting and enjoy that sumptuous holiday dinner in style. Enjoy that magical time!
5 | Wrap up in a Second
Ones, the party is over you can repack the tableware as you received it after giving it a quick rinse. And the best thing: you can keep the flowers. You can now return your box or have it collected at your front door.
Tablescape Box | Merry Glitz*mas
This happy set is radiating pure holiday joy. Full of optimism, your table transforms into a colourful candy-land with ribbons and painted Christmas ornaments in poetic blue and pink hues. Serve your unforgettable gourmet-feast on gold-rimmed plates and golden cutlery accompanied by blush-coloured glassware. Now, it is indeed the season to be jolly.
29,50 € per Person
Tablescape Box | Hygge Holiday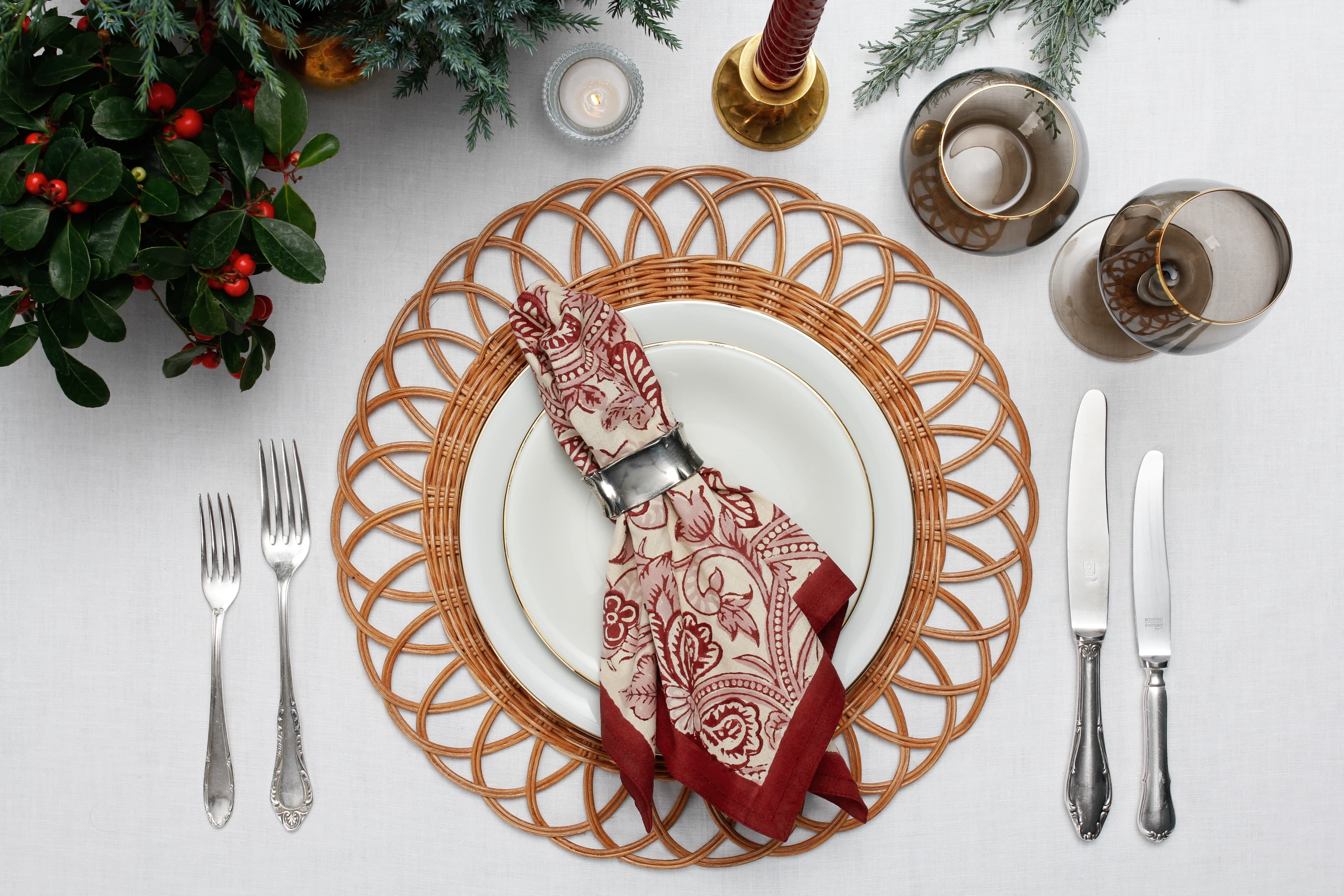 It is precisely this kind of festive wintery table setting that should await you and your guests after a long walk in the woods. With woven rattan and ivory-coloured porcelain, smoked black glasses and silver cutlery, natural and chic elements create an exciting contrast here. Red candles and napkins with paisley patterns provide boho-chic and warmth.
29,50 € per Person
Tablescape Box | Haute Classics
If you are looking for a sophisticated dinner-table setting with an instant wow-factor look no further. Here, ivory-coloured tableware and glass plates with luxurious gold rims, delicate glasses and gold-coloured cutlery sparkle gracefully in the candlelight – one more beautiful than the other. This look sets an über-elegant scene for every festive meal.
29,50 € per Person
Silent Night, Save Night - Together against Covid
gotvintage Rental & Event Design is particularly concerned about your and our employees' health, so we have adapted to the current situation. Our employees and we wear gloves and mouth-nose covers when cleaning and packing the products. Our china, glasses, cutlery and transport boxes are always and will continue to be washed in an industrial dishwasher at 62 °C. The cutlery is then packed airtight, and the crockery and glasses are packed in transport boxes. All other products are also thoroughly cleaned and disinfected after each rental. Our warehouses are regularly cleaned following current hygiene standards.
Contactless delivery
We offer contactless delivery and pick up. If this is not possible, we ensure a minimum distance of 1.5 m and wear a mouth-nose cover. We comply with the current hygiene and distance rules as specified in the SARS-CoV2 health and safety standards, thus protecting our employees, your families, our customers and your guests.
Any more questions?
If you have any questions about our safety measures or about the gotvintage tablescape boxes, please feel free to send us an email got@gotvintage.de.You can also reach us by phone at +49 30 310 11 599.
Stille Nacht, sichere Nacht - Gemeinsam gegen Covid
gotvintage Rental & Event Design liegt Ihre und die Gesundheit unserer Mitarbeiter besonders am Herz, deshalb haben wir uns an die aktuelle Situation angepasst. Unsere Mitarbeiter und wir tragen beim Reinigen und Verpacken der Produkte Handschuhe und Mund-Nase-Bedeckung. Unser Geschirr, Gläser, Besteck und Transportkisten werden grundsätzlich und auch weiterhin bei 62 °C in einer Industriespülmaschine gewaschen. Besteck wird anschließend luftdicht, das Geschirr und die Gläser in Transportkisten verpackt. Auch alle weiteren Produkte werden nach jedem Verleih gründlich gereinigt und desinfiziert, unsere Lager werden regelmäßig nach aktuellen Hygienestandards gereinigt.
Kontaktlose Lieferung
Wir bieten eine kontaktlose Lieferung und Abholung an. Sollte diese nicht möglich sein, achten wir auf einen Mindestabstand von 1,5 m und tragen eine Mund-Nase-Bedeckung. Wir halten die aktuellen Hygiene- und Abstandsregeln, wie in den SARS-CoV2-Arbeitsschutzstandards vorgegeben, ein und schützen so unsere Mitarbeiter, Ihre Familien, unsere Kunden und Ihre Gäste.
Noch Fragen?
Wenn Du noch Fragen zu unseren Hygienemaßnahmen oder rund um die gotvintage Tablescape Box hast, schreib uns gerne eine Mail got@gotvintage.de. Unter 030 310 11 599 kannst Du uns auch telefonisch erreichen.